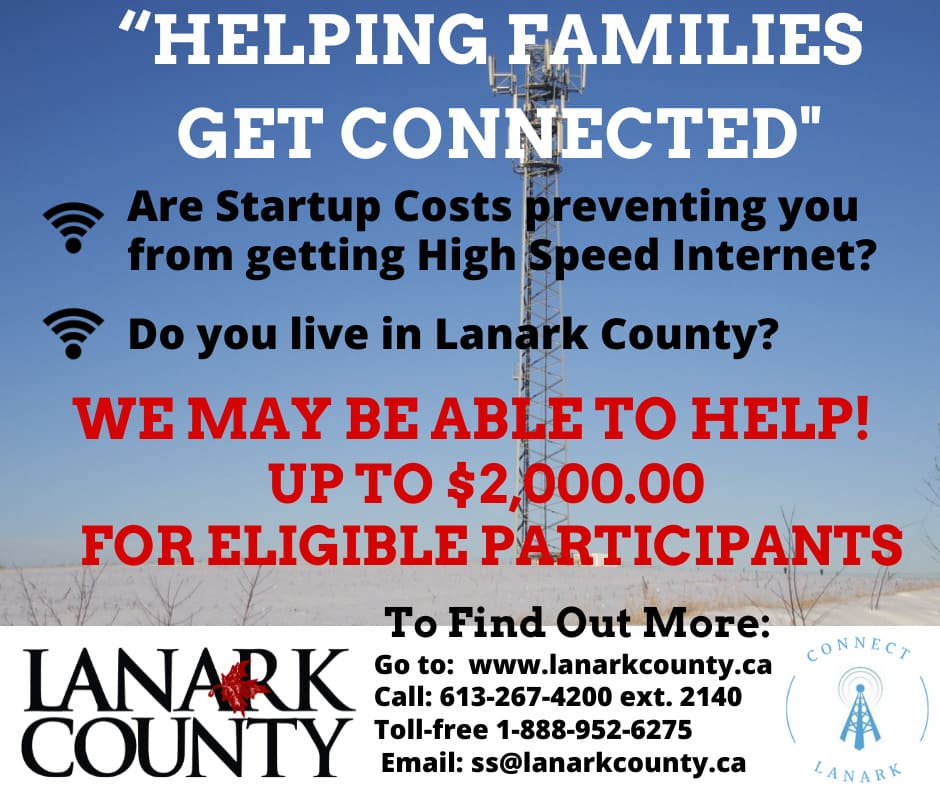 The Connect Lanark program offers financial assistance to Lanark County low-income individuals and families for initial connection to internet service. The program assists low- income households to access high-speed internet.
Who Can Apply?
Residents with household incomes below $70,000
Maximum Value of Assets $200,000
House must be primary residence, valued at less than $305,372 (Amount under review by Province)
Eligible Project
Broadband Installation, examples include, but are not limited to:
installation of towers,
satellite dish,
wiring, etc.
Financial Assistance
Maximum payment is $2,000 (one time only).
If the cost of the project exceeds the maximum $2,000, any additional amount must be paid to the service provider by the Applicant.
Funding is limited and any applicants who have previously received Connect Lanark funding are prohibited from applying for the program again.
Funding is not intended to be for ongoing internet costs or repairs to any installed infrastructure
Documents to Include with Application
The following documents are mandatory and must be included with the application:
Photo ID for all adults in the home (Driver's License, Health Card, Photo ID)
Verification of place of residence (Rental/Lease Agreement, Mortgage Document, Utility Statement)
Verification of Income (Notice of Assessment, Paystubs, Statement of Income)
Verification of Asset Value – 3 months (90 days) of bank statements plus any asset statements (Proof from Financial Institution or Investment Company)
Quote from Internet Service Provider
For More Information, Contact:
Lanark County Social Services
Phone: (613) 267-4200, Ext 2140
Toll free: 1-888-952-6275, Ext 2140
Website: www.lanarkcounty.ca
E-mail: This email address is being protected from spambots. You need JavaScript enabled to view it.
Download the Information Sheet