Publications that celebrate our history:
North Elmsley Township: Doorway to the Past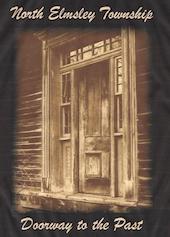 Travel back in time to 1816 to discover who the first settlers were, and how they shaped the development of the township into the 1860's, and beyond. Follow the historical, municipal and genealogical progression of the Township, and be surprised and delighted by what you discover!
A limited number of books available: $30.00 each. Bridge support was provided by the Township of Drummond/North Elmsley. Net proceeds will go to Archives Lanark for the unlimited use of their original material and resources, and to assist in furthering their mandate to preserve history.
Memories of Home – An Anthology of Stories by the Residents of Drummond/North Elmsley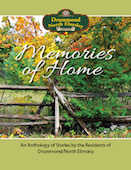 This book is dedicated to our residents, their stories and is legacy in celebration of Canada's 150th in 2017 and as a keepsake of our 200th Anniversary events of 2016.
A limited number of books available: $30.00 each.
Rural Schools of Drummond Township (now available)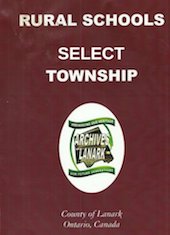 This book is the seventh in the series of twelve books published by Archives Lanark, detailing the one room rural schools in the original Townships of the County of Lanark.
This hard covered limited edition sells for $45.00, and you can pick up your copy at Archives Lanark, 1920 Conc. 7 Road, Drummond Centre Ont.
Previously published were the rural schools of Darling and Lavant, Dalhousie, North Elmsley, Lanark , Beckwith and Ramsay.
Some North Elmsley and Lanark books are still available . All others have been sold out.
For more information, call Irene at 613.267.2232,
e-mail This email address is being protected from spambots. You need JavaScript enabled to view it. or visit our website
at www.archiveslanark.ca
First We Were Soldiers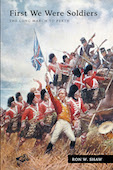 First We Were Soldiers introduces a representative cross section of Perth's Soldier-Settlers – corrupt officers and illiterate Privates, heroes and deserters, wives rescuing wounded husbands from the battlefield, and children born on storm tossed troop ships or in POW camps. In the mix were English, Scots and Irish, as well as Swiss, French, Dutch, Polish, Sicilian and American.
Marking the 200th anniversary of the founding of the Perth Settlement in 1816, First We Were Soldiers portrays the lives of the men and their families, as they marched with the armies of Wellington and Prevost across the Iberian Peninsula and through the North American backwoods before finding themselves swinging an axe in the elm forests and cedar swamps north of the Rideau River.
Available at:
The BookNook
60 Gore Street East, Perth, ON
Tel: 613-267-2350
Email:

This email address is being protected from spambots. You need JavaScript enabled to view it.




The Perth Museum
11 Gore Street East, Perth, ON
Tel: 613-267-1947


Archives Lanark
1920 Concession 7 Rd, Drummond Centre, ON
Website: www.archiveslanark.ca
Email:

This email address is being protected from spambots. You need JavaScript enabled to view it.




FriesenPress
Website: friesenpress.com
Forgotten Hero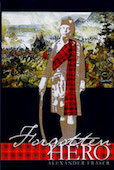 Born in the garrison at Forth Augustus, Inverness-shire, Scotland, Alexander Fraser (1789-1872) followed his father into the British Army, enlisting in 1807 as a lowly drummer. In 1810 he transferred as a Private into Colonel Isaac Brock's 49th Foot and within just three years rose to the rank of Assistant Sergeant Major.
Then, at Stoney Creek in May 1813, he led the charge that broke the American line and saved Upper Canada for the Crown. In recognition of his bravery Fraser was awarded a field commission and made a rare transition from 'Barrack Brat' and foot soldier to officer and gentleman. Granted land at the Perth (Ontario) Military Settlement he consolidated his elevation (despite frequent episodes of less than 'gentlemanly' behavior) serving for three decades as a Magistrate and rising to the rank of Lieutenant Colonel commanding the 6th Regiment, Lanark Militia. (Co-authored with M. E. Irene Spence).
Available at:
Available at:
The BookNook
60 Gore Street East, Perth, ON
Tel: 613-267-2350
Email:

This email address is being protected from spambots. You need JavaScript enabled to view it.




The Perth Museum
11 Gore Street East, Perth, ON
Tel: 613-267-1947


Archives Lanark
1920 Concession 7 Rd, Drummond Centre, ON
Website: www.archiveslanark.ca
Email:

This email address is being protected from spambots. You need JavaScript enabled to view it.




A Prequel and Sequel to the Last Fatal Duel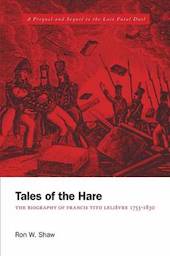 Tales of the Hare, recounts the life and times of Francis Tito LeLièvre (1755-1830), a naval officer who served both Louis XVI and revolutionary France before defecting in 1793 to service in both the Royal Navy and the British Army. After playing a significant role in the War of 1812 LeLièvre took up a land grant at the Perth (Ontario) Military Settlement where his son, Henry LeLièvre (1802-1882), was falsely accused of plotting murder by proxy through the 'Last Fatal Duel' fought in Upper Canada.
Available at:
The BookNook
60 Gore Street East, Perth, ON
Tel: 613-267-2350
Email:

This email address is being protected from spambots. You need JavaScript enabled to view it.




The Perth Museum
11 Gore Street East, Perth, ON
Tel: 613-267-1947


Archives Lanark
1920 Concession 7 Rd, Drummond Centre, ON
Website: www.archiveslanark.ca
Email:

This email address is being protected from spambots. You need JavaScript enabled to view it.




FriesenPress
Website: friesenpress.com